[vc_row][vc_column][vc_column_text]
Tracy Homuth
When Tracy's mom was asked what Tracy was like growing up, she said, "He was always fun loving." To this day, if you are around Tracy Homuth, you will know he is a fun loving man. Tracy entered the world of real estate, after being downsized by a large Fortune 100 company, where he was the National Sales Manager.
Tracy and Tommi Sue decided to sell their house, in Stonebridge Ranch, in McKinney, TX, to move closer to Tommi Sue's office in Plano. They thought…how hard could it be to sell it themselves? Well, they found out how hard and how dangerous it is to sell your own house. They hired a professional realtor, who became a friend, and Tracy decided he could take his exceptional selling skills and put them to work helping others to buy and sell real estate. The rest is history, a successful, almost 2 decades of helping folks, find just the right house and getting them just the right price, when selling their property.
As an experienced broker, Tracy makes home selling a good experience, informing sellers on how to maximize the sales price, letting them know what repairs are needed and what ones are not necessary. For first and second home buyers, Tracy's knowledge and his quick sense of humor turn clients into lifelong friends.
One of Tracy's clients, Bob, has worked with Tracy on selling, buying and managing his investment residential and commercial properties. Bob said "Tracy has managed to put more dollars in my pocket by; finding the right tenants, by having a professional group of contractors, and maximizing the sales price, when he sells my properties. I highly recommend this fun loving real estate broker."
Tracy mission statement is on his business card, "Life is not a journey to the grave with the intention of arriving safely in a pretty and well preserved body, but rather to skid in broadside, thoroughly used up, totally worn out, and proudly proclaim, WOW –What a Ride!"
[su_divider top="no" style="dotted"]

Tommi Homuth
Tommi Sue is the fifth and youngest daughter of an entrepreneurial family, from Buffalo, Wyoming.
Tommi Sue was named after her grandfather, Thomas Charles Montgomery, a farmer, Coast to Coast Hardware Store owner and WW I Veteran. Tommi Sue's father owned a Car Dealership in Buffalo, and was a poor poker player, which led to Tommi Sue's mother, Lorraine Baker, becoming an entrepreneur. Tommi Sue's mom started her own house cleaning business. When her mother decided she needed a better paying job, she enrolled in Business College. When she graduated she became an executive assistant for the State of Wyoming. All five of the Baker girls went to college and became entrepreneurs. From artist, to childcare center owner, boutique owner, to a disability design consultant, Tommi Sue's sisters have the same strength, determination and work ethic that she has, that have made them all very successful.
Tommi Sue is a graduate of the University of Wyoming and has a Master of Science Degree in Business and Human Relations. After a successful career in sales and commercial banking, Tommi Sue joined her husband, Tracy in his real estate company, in 2012, as an owner and quickly became a multi-million dollar producer. Her hard working mom would be very proud.
Tommi Sue is actively engaged in the community, as a Main Street Denison Board Member, Community Volunteer for Main Street Festivals, Denison Economic Redevelopment Committee Member and a Small Business Certified Advisor for the Grayson College Small Business Development Center.
What do clients say about Tommi Sue? One client recently sent a note, which said, "Thank you for giving your time, talent, and energy to see Pottsboro and Grayson County grow. I treasure your friendship and expertise. You are making a difference every day. God Bless You." Geri
[su_divider top="no" style="dotted"][/vc_column_text][vc_column_text]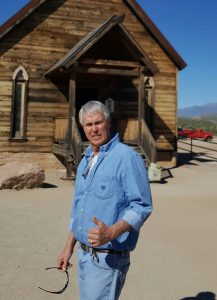 Bill Pratt
Tracy Realty Agent, Bill Pratt is originally from Minneapolis and McKinney, TX.  After buying several lake homes in the area, Bill and his wife, Cindy, moved full time to Lake Texoma, about two years ago.  Bill was a commercial and residential realtor in Collin County for many years, and wife Cindy owns and operates Salon 205, in McKinney.  This entrepreneurial couple has had a number of successful businesses; including a beautiful wedding venue in Trenton, TX.  
Bill and Cindy have become very involved in Denison, and purchased the building at 118 West Main, where they remodeled the historical 1885 loft upstairs.  It is listed on Air BNB, as 1885 Loft, and they have helped Vintina's Deli and Bakery, open a second location on the main floor.  
What they love best about living in Texomaland, is the peaceful, nature-filled environment where they daily see bluebirds, deer, roadrunners, wild turkeys and an occasional bobcat!  The lake community, where they live, has a beautiful and expansive deep water dock where you can grab a lawn chair and enjoy the sunset, do a little fishing, or just enjoy the water!  Did I mention that Bill and Cindy live right across the street from Tracy and Tommi Sue?  Birds of feather love living at the LAKE!
[su_divider top="no" style="dotted"]
[su_custom_gallery source="media: 169,171,170″ link="lightbox" width="390″ height="300″ title="never" class="img-center"][/vc_column_text][/vc_column][/vc_row]